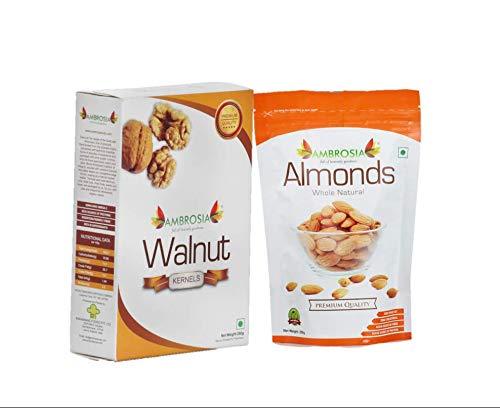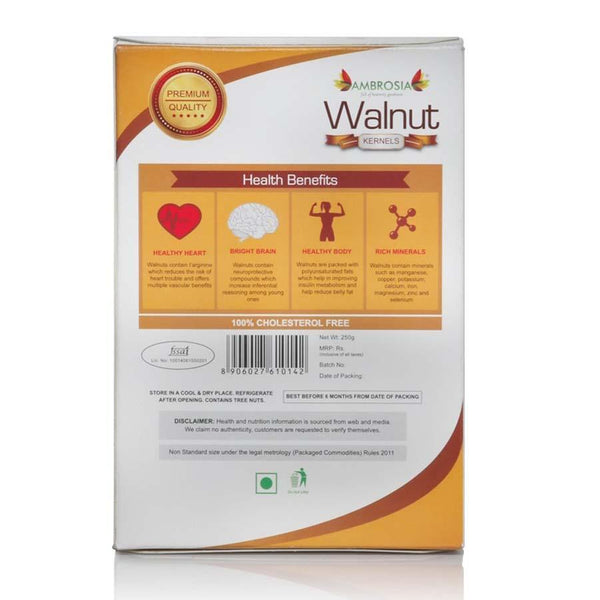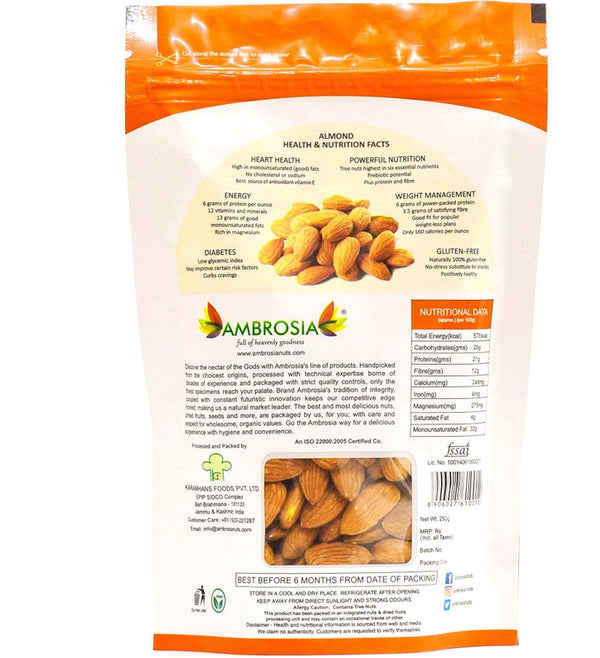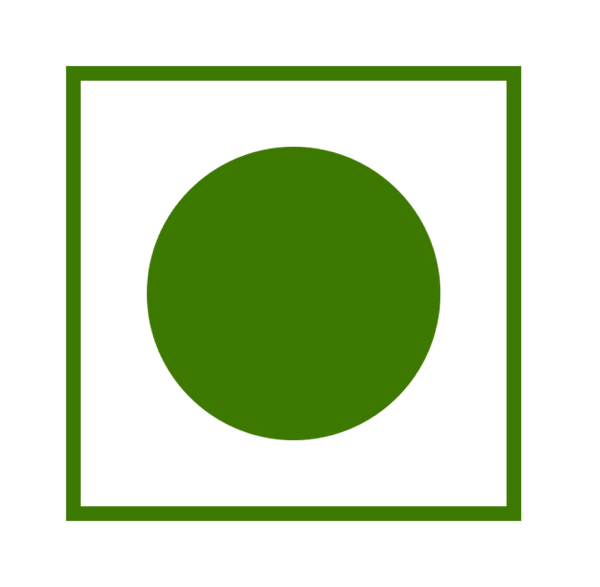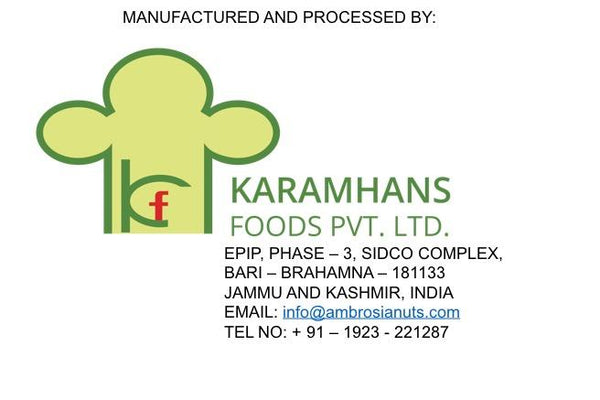 Special Features of California Almond Kernels - Premium 250g :
Ambrosia Premium California Whole Almonds - Handpicked and double sorted - 100% natural with no added colors or additives.
CRUNCHY: Quality is Legacy of Ambrosia. We import almonds from the choicest farms of California to deliver the best Fresh - Cold - stored until despatch helps retains freshness in nuts.
Hygienically packed in a facility meeting international food safety standards.
Almonds are excellent for weight loss plans: high in dietary fiber and curbs cravings Store in a cool and dry place Preferably refrigerate after opening
Storage: Keep your Ambrosia Almonds in an airtight container for daily consumption. You can freeze Almonds for up to a year.
Recommended Intake: A handful ~ 4 to 5 Almonds daily soaked overnight in water.
Special Features of Ambrosia Kashmiri California Kernels Walnuts - Premium
Extra Light Halves Kernels sourced from selected California Farms

These are double-sorted to offer Fresh, Raw & Crunchy Walnut Kernels

These are vacuum packed to retain freshness & to avoid any 

contamination

100% Natural – No color-enhancing additives used

Hygienically packed in a facility meeting food safety standards Usage
Benefits of Ambrosia Walnuts:
Walnuts are rich in Omega-3 fatty acids

Walnuts are rich in plant-based proteins and good unsaturated fats: Zero Cholesterol & Zero Trans Fats

Walnuts are a Super Food for ALL age groups especially children

Walnuts are high in dietary fiber which helps curb mid-day cravings
Sprinkle walnuts on salads, desserts, and brownies to get your nutrients with an extra crunch
Storage: The best place to store your Ambrosia walnuts is in your refrigerator or freezer, depending upon when you are going to use them. If you are using them daily, store them in an air-tight container in the refrigerator. If you won't be using walnuts for a month or longer, store the vacuum-packed walnuts in a freezer.

Recommended Intake: A handful ~ 12 - 14 Walnut Halves daily soaked overnight in water

Nutrition tip: A handful of walnuts contains 15.5 grams of good fats, 2.5 grams of omega-3 alpha-linolenic acid (ALA)
Walnuts are fresh and crunchy.
Customer name
Excellent almonds in terms of size and quality. Taste is also good
Cheena